SRAMPS Steps toward U.A.E National Agenda: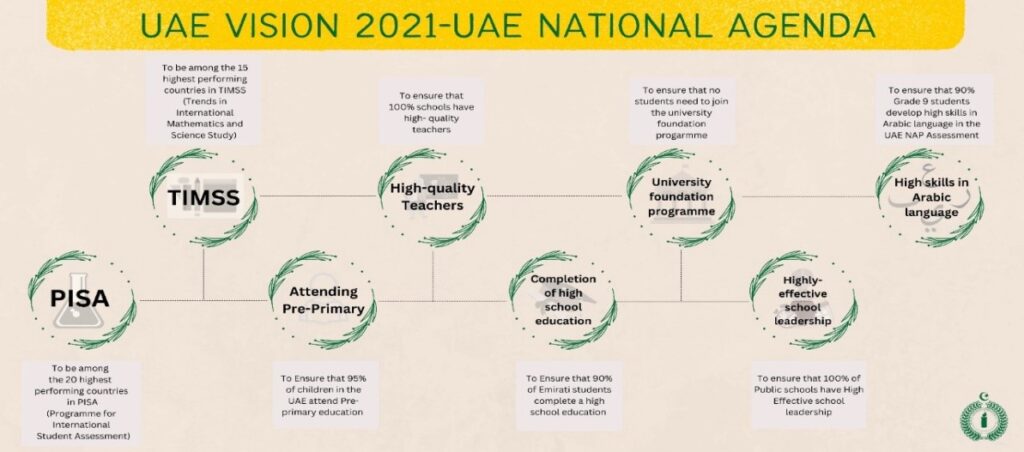 Our school is fully committed to all six values of the UAE National Agenda: especially for Education by extending full support and training to all faculty and staff members to ensure all targets are achieved.
Achievements:
By adopting international benchmark assessment data for improvement, we are pleased to inform that we have achieved slightly above the KHDA's set targets for TIMSS (2019) in grade 4 Math and Science. For further improvement, we have organized training program for faculty and extra support is provided to the students to make them familiar with questioning style of international benchmark tests.
TIMSS: (Trends in International Mathematics and Science Study) is a large-scale international assessment of mathematics and science in Year 5 and Year 9, conducted by the International Association for the Evaluation of Educational Achievement (IEA).
The next TIMMS assessment will take place in 2023
https://timssandpirls.bc.edu/timss2023/frameworks/index.html
PISA: (Programme for International Student Assessment) is a benchmarking test for 15 year olds and is held every 3 years in Science, Mathematics and Reading . The next PISA assessment will take place in 2025.
PIRLS:( Progress In International Reading Literacy Study)
PIRLS 2021 is the fifth assessment in the current trend series, following PIRLS 2001, 2006, 2011, and 2016. The number of countries participating in PIRLS has grown with each assessment. Nearly 70 countries and sub-national benchmarking entities are participating in PIRLS 2021, including many that have participated in previous cycles since 2001. For countries with data since 2001, PIRLS 2021 will provide the fifth in a series of trend achievement measures collected over 20 years
http://pirls2021.org/frameworks/home/introduction/
What are SRAMPS  School's PISA & TIMSS targets?